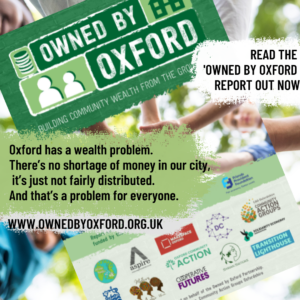 We're proud to be part of the
Owned by Oxford
project – a diverse partnership of organisations and individuals with the aim of addressing inequality in the city through community wealth building.
Together, we have been testing out and creating new routes for the considerable resources held by Oxford anchor institutions – Oxfordshire County Council, Oxford City Council, Universities, and larger businesses – to support authentically community-owned and run enterprises as part of the journey to a new economy for the city, one that puts people, planet, and wellbeing before profit.
For our own part, following a successful bid for City Council "Build Back Better" funding, Co-operative Futures was able to appoint an Oxford-based co-op development worker as part of the Owned by Oxford team – our very own Alice Hemming. This has had a significant impact on the project capacity, bringing specialist knowledge and expertise and incubating co-operative initiatives in response to market gaps such as social care, retrofit, and back-office support for small businesses.
May 2023 saw
Building Community Wealth from the Ground Up: The Owned by Oxford Report
released. Read more about the journey and aims of the project and download the report
here.