Co-operative Futures is a business development consultancy specialising in co-operative, mutual and community led businesses. Founded in 2000 it was set up to provide direct advice and support services and to engage in debates to find mutual solutions for challenges being faced by communities.
So whether you are starting out with an idea, looking to grow and develop your business or want to know about more about community ownership and co-operative business models we can help you.
Working with start-ups and existing companies we advise a variety of enterprises in a wide range of sectors including retail, leisure, community asset transfer, renewable energy, care and many more.
There are many names bandied around for the types of organisation we work with but it boils down to three things: that there is trading activity, they have a social purpose and there is some form of collective ownership. If you think that might be you please get in touch.
Starting up
Starting up
Looking at your business model, the viability of the business and what you need to get going.
Governance
Governance
How to make sure your legal structure is the right one and making sure you are doing the right things for your members.
Community shares
Community shares
Support to write a share offer document that will enable you to raise capital investment from your community or members.
Finance
Finance
Looking at how much it costs to run your business, what you should charge to make the right amount of profit and how to understand your accounts.
Marketing
Marketing
Identifying who your customers are, what they want to buy, how much they will pay and how to tell them about yourselves.
Business Plans
Business Plans
We help to write one that covers all the important areas. It can be one that is just for use internally or one that is needed to raise finance.
Co-operative Futures is an approved provider for the following schemes:
Working in partnership with the Owned by Oxford project and CAG Oxfordshire Co-operative Futures has received funding from Oxford City Council to run a dedicated co-operative development service for Oxford city. MORE–>

Community shares can save local shops and pubs, finance renewable energy schemes, transform community facilities, support local food growing, fund new football clubs, restore heritage buildings, and above all, build stronger, more vibrant, and independent communities.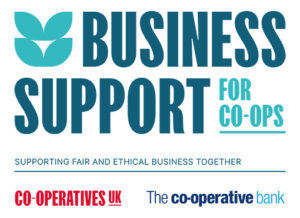 The Business Support for Co‑ops programme delivers tailored business support and mentoring for start‑ups and existing co‑operatives, as well as supporting businesses looking to convert to worker or community ownership.
.
Jo White
Executive Director
Jo runs Co-op Futures and is the driving force behind our annual Future Co-ops Conference. She's been providing advice to emerging and existing co-operative businesses, community owned enterprises and mutual organisations for over 20 years.
Alice Hemming
Co-operative Development Worker
Alice has been working in the co-operative and community development sector in Oxford for the last 8 years. We love that she describes herself as a 'co-op geek'!
Co-operative Futures is part of a workers co-op – The People Co-op, a network of ethical, sustainable businesses here in the UK with a focus on the business to business service companies.
Our head office is at: City Works, Alfred Street, Gloucester. GL1 4DF
Our Oxford office is: Makespace Oxford, 1 Aristotle Ln, Oxford OX2 6TP
You can call us on: 01452 543030
If you are not happy with the service you have received from Co-operative Futures please let us know. Details of how to do it are here or complete the contact form.