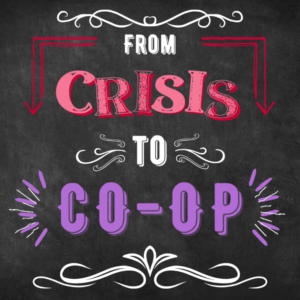 From Crisis to Co-op Outcomes
We were so lucky to have Rae Goddard with us during our Future Co-ops event in 2023 to capture our lively discussions – in illustration.
Each of the illustrations below – click on them to enlarge – highlight the actions delegates believe to be the way forward to help people in the current cost of living crisis.
Subjects discussed were wide ranging from community food and housing to warm spaces and digital poverty.
Delegates identified ways that co-operatives and community, mutual organisations can help.
The challenge now, is to put the ideas into action.